What Separates Dental Crowns From Dental Implants?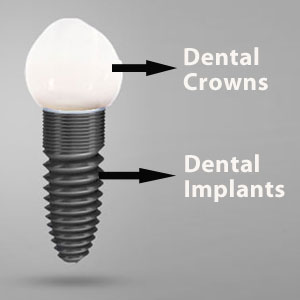 Have you lost one or two teeth? If you have lost a tooth due to an injury, decay or any unforeseen circumstances, you might have lesser self-confidence. However, the world of dentistry has multiple options to provide you the smile you crave for.
The two most popular options to fix your teeth are: Dental Implants and Dental Crowns. Daniel Castro's dental office in El Paso offers both dental crowns and dental implants services. In our previous blog, we have explained about the uses of dental veneers in El Paso if you have dental implants. However, if you require the service of the best cosmetic dentist, you must consult Dr. Daniel Castro right away!
What are Dental Crowns?
Dental Crowns refer to a popular dental surgery where your damaged or decayed tooth is fixed. Dental crowns in El Paso helps in fixing your damaged tooth through a custom-made dental crown. A dental crown is usually fitted to your gums at the bottom of your tooth. It is fixed in such a way that it seals your tooth tightly and ensures that no bacteria affect your teeth.
What are Dental Implants?
Dental Implants refers to another type of dental surgery where a metal-like screw is used to replace your tooth. It looks like a metal screw that is fitted into your jawbone. Once the implant is rooted into your gums an abutment is placed onto the top of the implant after a gap. Later, the crown is affixed firmly above the abutment. The crown, after the affixing procedure, becomes the visible component of the teeth inside the mouth.
How Much Does Dental Crowns and Dental Implants Cost?
Dental implant is a process, which can exceed months for its completion. If you decide to opt for the dental crown, in addition to the implant it can go over a couple of months. However, if you choose the dental crown alone, you can finish the treatment in our dental office in El Paso in just one or two visits.
Will My Insurance Cover My Dental Crown or Dental Implant Treatment?
Most commonly, several insurance holders usually only get their dental crown treatments covered under their policy. However, there do exist certain insurance plans where even dental implant treatments are covered. To be on the safer side, you must check with your dentist in El Paso. Ensure that your preferred treatment is covered under your present insurance plan or not.
Conclusion:
We hope that you now have a clear understanding of the differences between dental crowns and dental implants in El Paso now. It's time for you to decide. If you are in El Paso, consider Daniel D Castro, D.D.S., P.A. to avail impeccable general and cosmetic dentistry services. Head to our website of Daniel D Castro, D.D.S., P.A. to discover more information about the services. Dial us at (915) 581-8070 to arrange for an appointment right away.