Will Teeth Whitening Gel Work on Veneers or Crowns?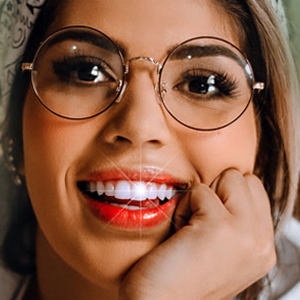 A gorgeous, sparkling white smile is something that most individuals aim for. Gels, strips, and other teeth-whitening solutions can assist in enhancing the brightness of your teeth and removing stains. But what happens if you also have same-day crowns in El Paso or veneers? Can these repairs be whitened with products? Will the restorations harm your teeth? Is it possible to evenly whiten all of your original and repaired teeth? In a previous blog post, we discussed the differences between veneers and crowns. However, in this blog post, we will understand if teeth whitening gel work on veneers or crowns.
Let's know if teeth whitening gel works on crowns or dental veneers in El Paso.
Veneers and Crowns: Positive and Negative Aspects:
Veneers are an extremely thin coating of porcelain or another kind of material that is bonded to your tooth's front surface to alter its appearance. Veneers can alter the surface form of your teeth in addition to enhancing discolored teeth that do not improve with teeth whitening in El Paso.
A crown is a metal alloy or porcelain that totally encases the tooth. It is frequently utilized to fix a broken tooth or after a root canal. Both of these teeth restorations are constructed from a sturdy substance that is stain-resistant and helps cut down on the dull appearance of teeth.
Crowns and veneers are made of a robust substance that does not react to whitening agents like gels and strips. Any stains that do develop on these restorations are too deep for the whitening material to reach. Your natural teeth may therefore seem whiter than the crowns and veneers when you opt for cosmetic dentistry in El Paso to get white and bright teeth.
It is not possible to whiten crowns. In El Paso, our dental office offers the option of placing a dental veneer over the existing crown or replacing the crown with a new one in a lighter shade. Get a beautiful, natural-looking smile with dental veneers in El Paso.
Can You Whiten Teeth Prior to Placing Crowns or Fillings?
It can be possible to whiten your teeth prior to getting fillings and crowns if you are replacing several dental crowns in El Paso or metal fillings. This also works if you have several decayed or broken teeth that will need the solution with one or more fillings or crowns.
Post whitening, when your teeth adopt a specific shade, your dentist will choose a ceramic material or resin that matches the color of your recently whitened teeth. By doing this, you may be certain that your teeth restorations will totally match your original teeth.
Dr. Dan Castro can assist you whether you want to have your teeth whitened before getting fillings or crowns or you're looking into alternative options like veneers, bonding, and crowns. For more visit our dental office in El Paso or call us at (915) 581-8070 and schedule an appointment today.